All cages and equipment can be picked up in Caledonia, MN or delivered to La Crosse, WI. We will also consider meeting at the Minneapolis/St. Paul MN if you are making multiple purchases only!! Please Email CrawfordJ304@hotmail.com or call our home phone and leave your name and number (Please say phone numbers CLEARLY AND SLOWLY as we do not have caller ID!!) 507 - 725-5226
Cages for Sale
Must be picked up at house, we do not have a vehicle large enough to transport them! Located about 30 minutes west of Lacrosse, WI. All except one single cage have Dura-trays, most have urine guards. The Cages have been cleaned twice a year, have little to no rust, and need little to no repair work. Just need to have some urine and fur burned off! Most were made by either Klubertanz, Coats, Havahart, or Damars.
CAGES:
* 24" x 24" double stacked cage with plastic pans, good condition - $50
* 24" x 30" Double stacked cage with Plastic pans, good condition - $60


HUCTHES:
* Hand Built intended for indoor use, Stacked hutches make a bottom
cage and top cage, each cage is 2 feet deep by 4 feet wide by 2 feet
high. Cage is covered in small square wire, floor is 14 gauge
galvanized wire. Each cage has two doors that open in the front. Each
cage could be divided to make 4 24" by 24" cages. All are in good
condition with some minor repairs and cleaning needed. Each stacked
cage comes with two deep plastic pans. Asking $100 for each stacked
unit. These hutches must be picked up in caledonia, MN as we do not
have access to a truck that could deliver it.
* We also have a larger single hutch with intended for does with
litters or litters before weaning. $50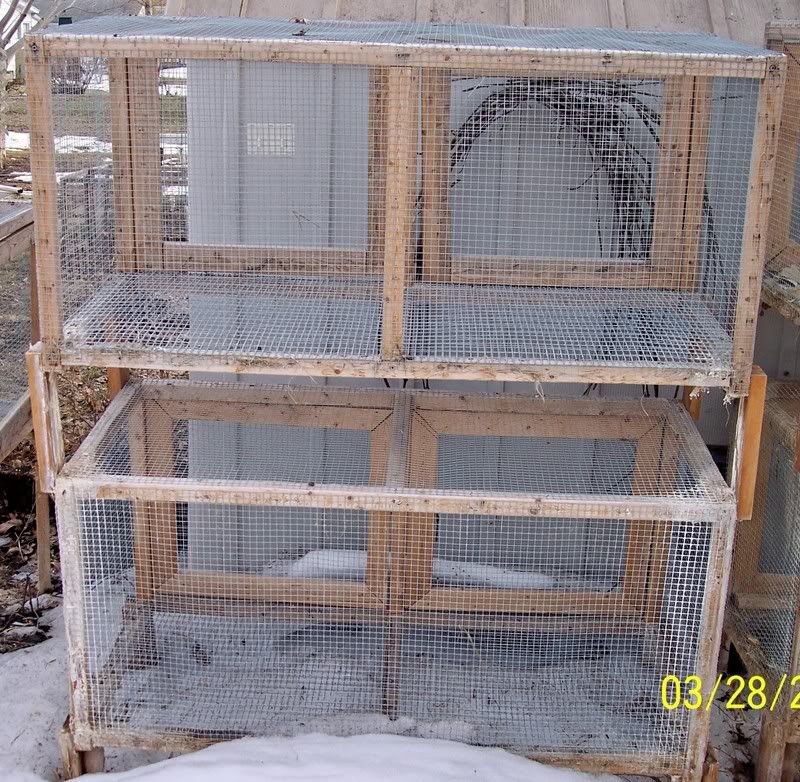 Miscellaneous equipment for sale
EQUIPMENT: * XL Size Wooden nest box for checkered giants or flemish giants - $10 * 2 Large size nest box for english lops or similiar sized rabbits - $10 * Medium Size nest box for commercial size breeds - $10 * Box of plastic cage door liners all cut about 12" long - $8.00 * 2 pieces of Galvanized 14 gauge Floor wire for larger breeds 2 by 4 feet each purchased from Da Mars - $15 each * Grooming table made by Klubertanz * never worn show coat for Youth * Will also have dishes, bottles, and other small items for sale, too many to post, items can be viewed if you stop at our rabbitry.